Product Info
Air Requirements
The Iwata G-Series G3 offers high paint flow & high detail to cover a wide range of uses, so when airbrush projects call for larger coverage, look no further than the Iwata G-Series airbrush-guns. They spray with the fine atomization and air pressure of an airbrush, while covering larger spray areas.
Fitting the gap between airbrush & standard spray gun, the G-3 is suited to a wide variety of work, such as Automotive, Murals, Sign work, RC & Scale Models, Art and Illustration, Hobby / Craft, Spray Tanning, Body Art.
* 0.3mm Nozzle
* Gravity fed
* 130ml Stainless steel paint cup with lid.
* Pattern adjustment from round to fan
* Air pressure adjustment valve
* Spray width - 1/8" to 2" (3mm to 50mm)
* 1/8" BSP-P inlet
* Weight - 0.302 Kg
* Supplied in sturdy foam lined storage / transport case
* Supplied with user manual & Iwata Lube
**
Please see the "Air Requirements" tab for information on compressor suitability.
For operating instruction / Manual (PDF, new window);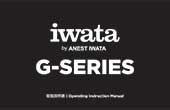 The G3 consumes considerably more air than a standard airbrush particularly when operating in fan pattern & many low / medium powered airbrush compressor will be unable to provide adequate airflow.

The following air consumption figures can be used to determine if you existing compressor will be suitable;

20psi - round pattern - 13.3 L/Min*
30psi - round pattern - 15.7 L/Min*

20psi - fan pattern - 24.6 L/Min*
30psi - fan pattern - 30.0 L/Min*

Your compressors airflow rating should be available from the compressor manual or from the manufacturer's website. Should the rating be provided in CFM, multiply the CFM rating by 28.3 to obtain the L/Min rating.

* These figures are approximate & provided for guidance only