The Iwata High Performance HP-B Plus is descended from the original HP series of airbrushes, it's a reliable performance airbrush featuring larger nozzle threads for added strength & better centering & now features a tapered paint cup for easy cleaning & more efficient paint flow.
The HP-B Plus with it's 0.2mm nozzle is suited to detail, high precision work & features a short paint path for quick & easy cleaning.
* Gravity fed, double action, internal mix airbrush
* 0.2mm nozzle
* 1.8ml paint cup
* Adjustable trigger tension
* Pre-set, cut-away handle
* Solvent resistant Teflon needle seal
* Hairline to 20mm spray pattern
*
5 year standard warranty
*
10 year extended UK warranty
Delivered in foam lined presentation case with instructions, nozzle spanner & 2ml Iwata Superlube.
* Optional 0.3mm parts available
* Optional Crown Cap available
For parts or operating instruction (PDF, new window);


A selection of Iwata accessories to further expand the capabilities of the High Performance Plus HP-B+ airbrush (Click image to go directly to product);
Crown Cap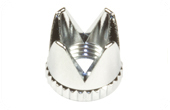 &nbsp&nbsp
External MAC Valve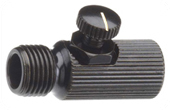 &nbsp&nbsp
0.3mm Nozzle Parts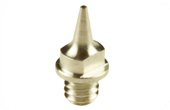 &nbsp