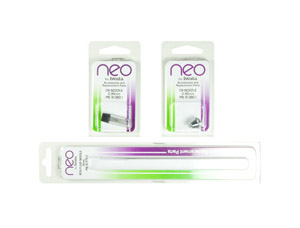 The Neo for Iwata 0.5mm Nozzle set allows the 0.35mm Neo CN to be converted into the 0.5mm nozzle set as fitted to the Neo for Iwata BCN airbrush.

In comparison to the CN's 0.35mm nozzle set, the 0.5mm nozzle set's higher flow allows broader & quicker coverage to be achieved.

The 0.5mm nozzle set comprises 0802 Nozzle, 0752 Needle & 1402 Nozzle Cap - these parts can be replaced simply & quickly to convert to 0.5mm & when you want to swap back to the standard 0.35mm nozzle set, it's just as easy. The standard Neo for Iwata needle cap fits both the 0.35mm CN & 0.5mm BCN & can be exchanged between each set.

* Easy change over

* Broader & quicker coverage

This nozzle set fits the Neo CN & BCN airbrushes & is not suitable for Neo TRN1 / TRN2 models.