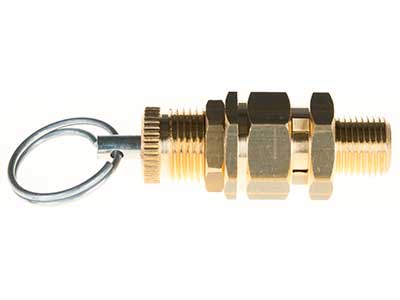 C1965 Pressure Relief Valve as fitted to Werther Sil-Air
manual
compressors.
* Manual models only, not suitable for automatic compressors
* 6BAR / 87PSI operating pressure
* 1/8" BSP-P male fitting
Some earlier manual compressor are fitted with valves that have a 1/4" BSP fitting & an
adaptor
will be required. To determine 1/8 or 1/4", please measure the outside diameter of the valve threads, 1/8" BSP-P = 9.6mm, 1/4" BSP-P = 13.0mm.
May be suitable for use with rebranded compressors marketed by Aztek, Aero-pro, Euro-tec, Iwata, Sparmax, Revell, Rotring & others.